Gargantia on the Verdurous Planet Blu-ray/DVD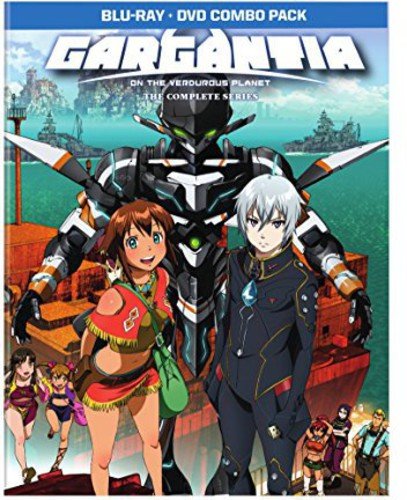 Title: Gargantia on the Verdurous Planet Blu-ray/DVD
ISBN: 782009243588
Format: DVD
Publisher: VIZ
Language(s): japanese|english
Release Date: Oct, 07 2014
Retail Price: $54.97
Previous Lowest Price: $24.99
Current Best Price: $0
Other links
Gargantia on the Verdurous Planet complete series collection contains episodes 1-13 of the anime directed by Kazuya Murata and OVA episodes 1-2 plus a chipboard artbox and an 80-page, full-color premium booklet featuring art, character guides, episode summaries, and more.
In the distant future, Ledo, a young soldier from space, wakes up and finds himself marooned on an ocean planet. Growing up in space and knowing nothing but battle, he is a stranger in a strange land, full of odd customs and a foreign language, but hes not alone. Starting a new journey on this verdurous planet, Ledo must find a way to survive and reconcile the fact that he may never be able to return home!
Special Features: Petite Gargiantia Mini-Episodes 1-13 & Petite Gargantia Special (subtitled only), Clean Openings & Ending, Textless Episode Scenes, Original Japanese Commercials, Original Japanese Promotional Videos.
Spoken Languages: English, Japanese, English subtitles.